First new post of the year is another review post. A review of all the fun, little stats the blog has accumulated over the year.  Since most bloggers like to keep their stats behind lock and key, I thought what better way to buck the trend than to let you know what amazing readers you are out there.
The Blog Health-O-Meter
The stats helper monkeys at WordPress.com mulled over how this blog did in 2010, and here's a high level summary of its overall blog health: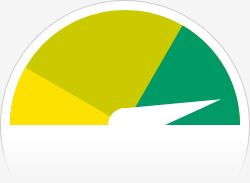 The Blog-Health-o-Meter™ reads Wow.
Fun numbers
The average container ship can carry about 4,500 containers. This blog was viewed over 16,000 times in 2010. If each view were a shipping container, your blog would have filled about 4 fully loaded ships*. When compared to 2009 totals, that's 81% increase in readership. So either I'm getting better at writing this blog, writing about more interesting things, or it's just pity reading? Maybe it's a combination of all them.  😀
In 2010, there were 22 new posts and 71 pictures uploaded. That's about 1 pictures per week (and a lot of iStockPhoto credits).
The busiest month of the year was January, with over 3,000 views. The most popular post that was Terminal Wave: The Google Wave Failure.
*Thanks to WordPress Staff for the container ship reference
Where You Came From?
The top referring sites in 2010 were reddit.com, en.wikipedia.org, twitter.com, searchenginejournal.com, and hugoguzman.com.
Some visitors came searching, mostly for google wave failure, google wave fail, ripple effect, milwaukee seo, and critical thinking.
Attractions in 2010
These are the posts that got the most views in 2010.

Link Building Normalization May 2010
The SEO Dream is Dead. Or is It? August 2010

Guide To Google Places and Local Listings November 2010
Search Marketing Reporting for Pros July 2010
The Jerry Maguire Syndrome July 2010
Like Monica Wright, I started off this post with the intention of reviewing some the largest changes in search this year. The deeper I got into it, the more I realized the following: is there anything really meaningful in this? Isn't this the same information that's been reiterated several times already (i.e. Google Caffeine, SERP Changes, the MASSIVE local updates, etc.)? That post? That post is to remain forever in Drafts Purgatory, never to see the light of day.
And, so, because we're all on the cusp of a new year, why should I feel bound to the same old-same old? Why continue to plod along the same worn out path when a new trail is just begging to be worn in? Just as the personal is political, so to the personal is business. A lot has happened this year; some of it great, some of it left scars, and some of it teachable moments.
Learning To Be Political
It's not really a secret. I'm an opinionated person. I have strong views to match a strong intestinal fortitude. And, this year taught me how to lessen the juggernaut in me and learn to meet people halfway. (Well, about as halfway as I can stomach 🙂 ) But, don't mistake this for a personality alteration. It's not. It's simply a matter of stepping outside the situation, outside of yourself, for a few moments getting the landscape.
It's been the hardest thing to discover and adopt this year. But, in the end, it's served me well. It's helped with personal relationships and business relationships alike. It's helped right the path of conversations and situations before they dove into an uncontrollable tailspin.
Doing What You Love is Still Work
You've heard it before, "When you're doing something you love, it's never work." That's nonsense. It's work even if you love it. We just tolerate it more because we love it. When you really decided to get moving in a direction (i.e. start a business or get a business rolling) it takes a level of sweat equity that most people can't even fathom.
You'll work from sun-up to sun-down. It'll cause new tensions and conflicts in your family that never existed before. There will be many moments when you think none of this is worth it. And, that's where LOVE comes in; both from the personal and the work. When you love it, you bear it, because you couldn't imagine doing anything else, nor would you want to. And, when the people around you love you, they understand and make allowances for work-a-holic behavior. And, when you love them, you know when you need to ease of the throttle and just be a Dad, a husband, a friend.
Making Connections and Being Social
Right. That sounds odd even to me, but it's a kind of social that exists outside Facebook and Twitter. It's a social that never came easy to me. And still doesn't. Actually networking, actually talking to another human being. I can say that push, and my continual pushing, to break my "comfort zone" has made me a better person. It helps in making and creating new business opportunities.
It was really something to take these Twitter relationships and have a few of them turn into friendships and opportunities.
Learning to Take Care of Me
For those that know me, they know I'll contort myself into a pretzel to help someone. No matter the situation, no matter the cost. This year I learned to take care of me. I learned how to say, "No". It's saved me insanity and hurt feelings. It's one of those life lessons that was hard to learn but necessary to learn. It doesn't mean I was a curmudgeon or a scrooge, it just means being judicious and not allowing others to monopolize or take advantage or me. I'd urge everyone to learn this one thing going into 2011.
On a personal note, I just want to thank everyone in search marketing community for a wonderful 2010. Without question this year is has been one hell of a roller coaster ride and I expect that it will be only that much more fun in coming year. Everyone have a safe, fun-filled, wine/beer-soaked New Year! See you in 2011!
The Google Doodle Entries
If you have a child in K-12, then the deadline for a "What I Wish for the World" entry ends this week.  Last year there were some amazing entries from kids of all ages, and this year is no different.
Vote For the Google Doodles
Check out this years online voting entries. And remember to vote for the kids.